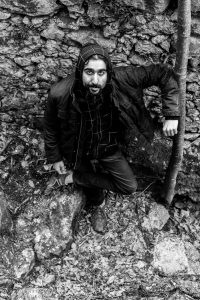 I am Aryan Havrest, a self proclaimed musician, editor at games.volume.at and student of teaching studies in chemistry and biology living in Vienna. This website will be used as a tool to share my thoughts on various matters that I value as interesting, as well as a medium of promoting my personal music and sharing news and updates with fans and other people who are interested in what I am doing.
Early life
My first contact with a musical instrument was at the age of seven years when I was sent to a music school to master the recorder. It didn't get to mastering, but I managed making important experiences regarding music. Even though I quit the recorder upon turning eleven, I couldn't last for too long without music. I became the generic fan and started listening to a lot of music of various genres on my first MP3-Player, which three years later led  to me picking up the bass guitar. My little brother did what little brothers do: He decided to learn the closest instrument to the bass guitar – Well, the electric guitar. He gave up way too soon and I started jamming on his baby too, so it wouldn't go to waste. Then the big chapter of playing in bands started.
As a musician
As every young metalhead ever did, I was playing in a band as a teenager. Well, I played in multiple bands that I doubt anyone has ever heard of. And that is a good thing, because they all pretty much sucked. But I don't regret embarrassing myself on stage, because I had a lot of fun and every bad song and every wrong note was a necessity that led me to where I am now. Nuclear Monstrosity was my first band that made it to multiple festivals and established in the scene. Later, when we released the first Daedric Tales EP Hircine's Call that band had a nice and fine push too.
Currently I am working on a few not band related projects that I had on my mind for far too long. I figured a personal website would be the best way to showcase those babies of mine. If you are interested in a much more detailed list of releases and bands I have been active in, feel free to check out the music section.
Social Media
You can follow me on various social media websites such as Facebook, Twitter, Instagram and Soundcloud by clicking the respective links. So why should you even do that?
Well, on Soundcloud I will upload songs and work-in-progresses every now and then. My Instagram is a mess of random vermin, pictures of my tape collection and my everyday life and backstage shots of my shows – so basically it is like a music themed slice of life manga, just that I am not an anime girl. I only use my Twitter for auto-sharing new blog posts with permalinks. Sometimes I try to act cool over there too. Last but not least: my Facebook is just there for shitposting. However it is the best way to contact me if you just want to chat a little.
For serious matters I recommend visiting the contact page on this website.
Save
Save
Save
Save
Save
Save
Save
Save
Save
Save