My website is still in the making, as I have to do a lot of polishing and fixing stuff. Most importantly, I have not written the cliché "first blog entry." Instead I will tackle a topic that is the cause for my gloom: One of my most important bands will be put on hold after the Grind Meets 90's show.
The way of grind
As you can read in the bio of Nuclear Monstrosity the band was founded in 2009 by the guitarist Mike. You might know him and the vocalist Thors from the bands Taxidermist and Seii Taishogun. The drummer Fabio and the second vocalist Andy too are both members of Taxidermist. Additionally Andy is known in the local metal szene for his services as the vocalist of Heaven Rise.
Throughout the years and in different line-ups we have forced ourselves upon many poor souls in various countries of central Europe. No matter what time, no matter where: Nuclear Monstrosity never left an audience bored. The first album So Let's Nuke'm First was released in 2012, but ever since no new songs were published. Even more surprising is the fact, that four years later more people than ever come out to visit the shows. Nuclear Monstrosity just knows how to party.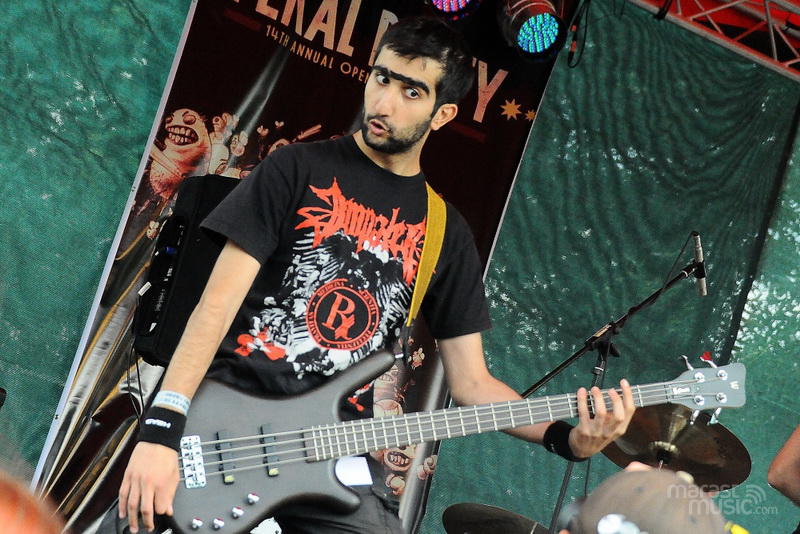 Nobody left to nuke
Now we decided to move on. Every member of this band has his side projects and nobody really has the capacity to contribute to Nuclear Monstrosity in a what, that would help the group to develop. Instead we will conceal this chapter at the 14th October 2016 and bid our farewell at the Grind Meets 90's show. This does not mean that we will stop performing. Nuclear Monstrosity will just limit their shows to very special events. No further albums are planned for now.
Grinding Future
Mike, Thor and Andy will work on their new hardcore band Harpyie. (Off topic: They still need a guitarist and a bassist. Wanna join? Go for it!) I myself can't really divorce with grind and that stuff. As a natural result another band will join the music section on this website. It will get really "ugly, sexist and absolutely not ironic." Friends of grind, behold and look forward for hairy men, party and some surf. Yet, nothing ever will get as groovy as Nuclear Monstrosity.
The whole band wants to thank you for the great years and we are looking forward to see you at the farewell show in October!
Save
Save