Hooray, the new year has arrived. I will use this as an excuse to move my sorry ass to write another blog entry – after almost three months or something. Well, it is common for people in the west to come up with some nonsense new year's resolutions, so this is what this blog entry is about: New year's resolutions. But I won't be boring you with some fitness or health stuff like all your other instagram friends you're following. Instead I will share a little bit info about some projects I want to start and/or finish this year.
An EP by Inhumantis
Inhumantis is my contribution to the community caused by the retrowave and synthwave hypetrain. I am working with my favourite visual artist and dear friend Johanna Seidl on a comic series focussing on the shape-shifting mantoid supervillain Artjom (aka Inhumantis) and his antagonist and actual hero Irina, who is a police woman. The story will be supported by the music I compose. The vision we have is getting the consumer to relax on a bed, tune in to the 80s inspired soundtrack and read through the dark comic at a comfortable pace.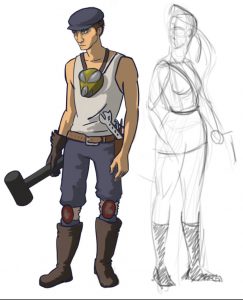 For now we are working on a five chapter story that should introduce characters, world and setting to the reader and listener. Each chapter will feature it's own track, resulting in a five song and two narrative track EP called Инхумантис. The EP will release before the comic is finished to (I am going to be blunt) generate a little bit of attention and direct it toward the graphic novel.
A two part concept EP about a journey we take daily
My real name is also used for my solo project Aryan Havrest. So far I have not released much using this alias, but that will change soon. The upcoming five track triphop EP will guide the listener through a fragment of a fictional person's day. That journey probably won't be as mundane as your everyday life though. Figurative devices and alternate perspectives will accompany you during an obscure morning full of desolated places, restless souls, as well as eery and uncanny characters.
I plan to start the EP with a pretty easygoing song and get stranger and more eccentric regarding scale, arrangement and lyrics with every next track, but I began the process of writing with the last song and plan to work my way back to the beginning of the CD track by track. Thus I will not say that you will like the final product, but I can guarantee that it will be weird. In fact, what I have come up with so far sure is weird. Weird indeed. While this first EP will focus on saddening aspects, the follow up will continue through the day with insanity in it's spotlight.
The ugliest surfers of all time
Unfortunately my former goregrind band Nuclear Monstrosity is no more. But everyone who knows me probably knew I wouldn't make it for too long with another grind project. Thus a few friends and I decided to form another band to commit various crimes on music. I recorded a funny parody song in the year of 2015 and this very song is getting its own band called Croco Jack and Surfin' Ali. We will mix 60's surf rock including all the vintage organ stuff and exploitation of reverb with some good old goregrind. The lyrics will be mostly nonsense, parody and of satirical nature.
I plan to hit the world with an album right away. No need for any single or EP, for I want to see the despair this horrible project will cause in its pure beauty. Seven songs are already written and recorded in the state of a demo and all our friends who have heared them can confirm that the whole thing indeed is going to be really funny – music-wise thanks to the crazy mix of classic surf rock, relentless deathgrind and blunt goregrind as well as lyricwise. But the aspect of this project I am looking forward to the most is playing live. The shows are going to be a blast. Party hard, surf harder.
This is a lot, but I want lotter
Yep, this indeed is a lot. The first Daedric Tales full length album The Divine Menace as well as the surfgrind album mentioned above are not enough big projects for me though. Aside from the two EPs I also want to release an album with my solo project. Expect this thing by the end of the year. This release will feature a couple of songs that I have written long time ago, but could not fit into any of my bands so far. Thankfully they are all similar regarding their styles, which is why I will cramp those hipstery titles along with some newer hipstery songs into an album with the hipstery title of Diffusive Constellations of the Mundane. Sounds like hispstery post rock, right? Let's see what it will end up as.
Schedule (non-committal):
February: Daedric Tales – The Divine Menace (Album)
March: Inhumantis – Инхумантис (EP)
June: Aryan Havrest – Journey Of Sadness (EP)
August: Aryan Havrest – Journey Of Madness (EP)
November: Croco Jack and Surfin' Ali – [Untitled so far] (Album)
December: Aryan Havrest – Diffusive Constellations of the Mundane (Album)
As always: New year's resolutions are meant to be broken, so… 😛
All jokes aside: I hope that I could get some of you interested in my works. I put a lot of effort and thinking into them and constantly try to improve. Feedback and constructive critique is an important part and a necessity for improvement, thus I kindly ask you to share your opinions either by mailing me, writing me on Facebook or leaving a comment down below.
Save
Save